A day at Tobee's
The beauty of being a host on a television cooking show that showcases farms and their produce is meeting the farmers. Their hard work and love for their livestock/produce is the key to a great product. These guys are the unsung heroes of the food world. I have always been a firm believer that the quality of the end product is a result of their love and passion for what they do. There is no...
Watch
Apologies for being so quiet recently on the blog front…I have been really busy filming Season 2 for Market to Master.Here is the plug that Lifestyle Network is showing (keep an eye out for it)…The first episode will be airing on Monday, July 2 at 8pm and with repeats on Saturdays 3:30pm on Lifestyle Network.
As sweet as honey gets...
The family and I have just come back from a great relaxing beach holiday in Malapascua. On the third day there, we bumped into this guy selling honey in a plastic bucket and being a chef and very curious to see what he had inside, I called him over.                      As he removed the lid to the bucket, I was so amazed to see that there was still honeycomb floating in the honey, any fresher...
Food facts...
1 The oldest recipe in the world was for beer - It is four thousand years old 2 Saffron is the most expensive spice in the world. Saffron is the stigma of the crocus           plant and has been estimated that it takes 225,000 hand picked stigmas to produce 1lb of saffron. 3 Red wine spoils when exposed to sunlight, that's why they are sold in tinted wine bottles. 4 The holes in Swiss...
Pi Caterings Festive season...
Wild Mushroom and truffle risotto with roasted King mushroom Seared scallop with broccoli puree, foie gras poached baby onions, asparagus spears and bacon foam Roast duck breast with braised red cabbage,pastille of confit leg and five spice jus Peanut butter and chocolate fondant with caramel mascarpone Seared scallop with caramelised cauliflower puree, homemade raisons and...
A little South African sweetness...
A couple of weeks back I got asked to cater for the South African Manila based community Christmas party … with me being South African, how could I say no? As I was writing their menu, I started getting excited about cooking South African desserts again, as the last time I did this was as a young kid sitting at my grandmother's kitchen table helping her bake.            As I...
Watch
So this is the last episode of Market to Master Season 1…It feels like it took forever to shoot and was done airing in just a matter of days… I must say, I had so much fun shooting Season 1, and I am really looking forward to working on Season 2 early next year… Thanks to everyone who supported the show and see you all next year…
Apartment 1B....My kinda place
Last week one of our dear friend's mom was in Manila for a visit from the States, so we decided to take her to Salcedo market to have a little lunch. Unfortunately, the weather didn't participate with our plans as it was a drizzly, overcast kinda day. So we decided to skip across the road (under umbrellas) and have lunch at Apartment 1B… I had never been there before but heard a...
        On Sunday morning, the family decided to go for a lazy Sunday lunch … We stumbled upon Mr Jones Diner. I had been to this posh diner a few times before but have just recently discovered that they have expanded the restaurant space as well as the menu (I think the manageress said they added 43 more dishes)… This then kicks off my first point, I have found that many...
Beef Wellington Recipe
History The exact date of this Culinary masterpiece is still a bit of a mystery to us,but what we do know is that it was named after and created for Arthur Wellesley -the first Duke of Wellington, he was the commander in the Battle of Waterloo that brought down Napoleon in 1815. My theory is that the beef must of been covered with a paste to keep it moist while it was roasting and then the paste...
This was yesterdays shoot at the market…Getting fresh produce for my Cooking show Market to Master…
1 tag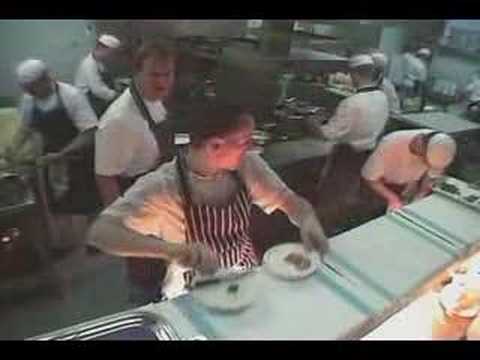 The beginning of food...
I think about this a lot while I am frantically rushing thru my kitchen at work (don't really know why) Which genius caveman decided to cook a tyrannosaurus rex or pterodactyl ? Put it on the fire and burn the meat to a crisp on the outside and still stone cold inside (I am just assuming this, as they would not of known how to on their first attempt) Would he of had a wife napping at his ear...
Out shopping...
There is something about food markets that makes my heart beat just a little faster than normal…the  bright colours, smell of fresh produce and the sounds of the vendors trying to convince you that theirs is better than the next guys. This is where I like to buy my produce for Pi catering. Guaranteed to be fresh and also trying to help out local farmers and business. Got some good...
1 tag
Getting ready...
Three or four weeks back I decided to start my own catering company here in Manila…The idea was to bring restaurant food into the comfort of peoples houses, equipped with trained waiters, skilled chefs, cutlery and crockery and all the tools needed for a restaurant feel at home…Ladies and gentleman, I introduce Pi Catering… I have been a chef now for 14 very long years and...